Official SKF Distributor for Sardinia

Official SKF distributors
such as La Casa del Cuscinetto provide an extensive range of spares and consistent standards of support through numerous outlets covering the entire territory. Unrivaled technical expertise, innovative services and direct access to the
support solutions
that SKF offers its customers around the globe - these are what set us apart.
We specialize in delivering trailblazing solutions that cater to the client's every need, since it is only in this way that a distributor can become not just another name, but a trusted partner.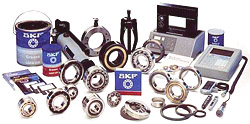 Purchasing SKF products from official distributors is the only way to ensure the
authenticity of the product
, its precise specification, compatibility and conformity to SKF standards.
Fake or reconditioned bearings, or bearings that have been stored incorrectly or for excessive periods can cause serious damage to machinery and systems, compromising the health of the machine operators and forcing increases in maintenance costs.